Is the 60-40 Stocks-Bonds Split Dying Off?
December 02, 2019 at 10:44 AM EST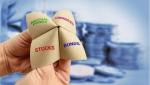 The 40% allocation into bonds has proven to be a challenge given that Treasury note yields have gone to basement-low levels. With more investors adding bonds to their portfolios, it's skyrocketed bond prices and driven yields down to a point where negative rates are entering fixed income...