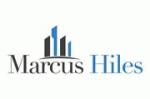 DALLAS, TX --(Marketwired - September 06, 2016) - With an unprecedented surge in the amount of corporate relocation to Dallas, and rising numbers in both employment and the next generation of homebuyers, costs in the city's property market are climbing to new heights. Marcus Hiles Dallas news regular and expert real estate investor has expected many of the recent changes as they have occurred, from a wave of multi-million dollar skyscraper acquisitions in the urban center to a shortage of homes for sale throughout the metroplex. As one of the state's most prominent community developers for the last three decades, Hiles' wealth of experience has given him a comprehensive understanding of the current trends. With myriad interests driving up prices, he explains the most important factors impacting the future of the area.
In the heart of Dallas city limits and within its nearby towns, businesses are purchasing buildings for astronomical, headline-grabbing amounts. Major 2016 transactions for some of the most visible skyline office towers include a German investment fund's acquisition of the 21-story 2000 McKinney tower in Uptown Dallas for over $200 million -- about $500 per square foot. Twenty miles to the north in West Plano, an unnamed foreign investor is reportedly spending nearly $400 per square foot for the 13-story Legacy Tower, a record high for the city. Due to construction costs and the escalating valuation of land, capital is flowing into the area from domestic and international sources willing to pay premium rates for office locations. Like corporations, buyers on the hunt for lower-priced homes are facing difficulty with many opting to rent instead. Marcus Hiles' Dallas based company has confirmed increased interest in his luxury rentals as conditions have limited the amount of entry-level houses below $250,000 for first-time homeowners.
As well-known companies like Toyota relocating to the metroplex (now the fourth most populous urban center of the U.S.), Marcus Hiles Dallas developer notes that corporate giants arriving to the region are in need of an expanded workforce. Upwards of 400,000 jobs have been created in the area in the last two years -- faster than anywhere else in the country with the exception of New York and Los Angeles; this tremendous expansion is responsible for a proliferation in billion-dollar projects to house the influx of new workers. Beyond the need prompted by industry, generational shifts are redirecting potential home owners and renters towards the suburbs. More millennials born between the years of 1980 and 2000 are moving towards planned communities outside of downtown or uptown apartments than ever before. An article in USA Today suggests that 33 percent of Millennials plan on buying homes in the next three-to-five years, promising yet another spike in prospective home-seekers in the near future; ultimately, there will be less places to go -- even with rushed construction -- and those that are available will be high priced.
Chairman and CEO of Western Rim Property Services, Marcus Hiles is a developer and philanthropist whose unique vision for luxury living has led to his successful creation of upmarket rental townhomes and apartments across the Lone Star State. In addition to offering working class Texans chic residences that feature hotel-style amenities and contemporary design, Hiles has donated more than 59 acres of parkland designated for public use, wildlife habitat preservation and the protection of the state's lakes, streams and rivers.
Marcus Hiles Dallas Property Investor: http://www.MarcusHilesDallas-News.com
Marcus Hiles Transforms the Dallas Real Estate Scene: http://www.marcushiles-news.com/2016/08/07/marcus-hiles-transforms-dallas-real-estate-scene/
Marcus Hiles Dallas Property Expert Develops Communities for the Future of Texas: http://www.cbs8.com/story/32699088/marcus-hiles-dallas-property-expert-develops-communities-for-the-future-of-texas
Image Available: http://www.marketwire.com/library/MwGo/2016/9/6/11G112884/Images/Marcus_Hiles_Dallas_News_Frequenter_Discusses_the_-dfe492070082b824a283fb7314380ae7.jpg
Embedded Video Available: https://www.youtube.com/watch?v=-VD8VW2A0-w